10 questions to ask before renting a room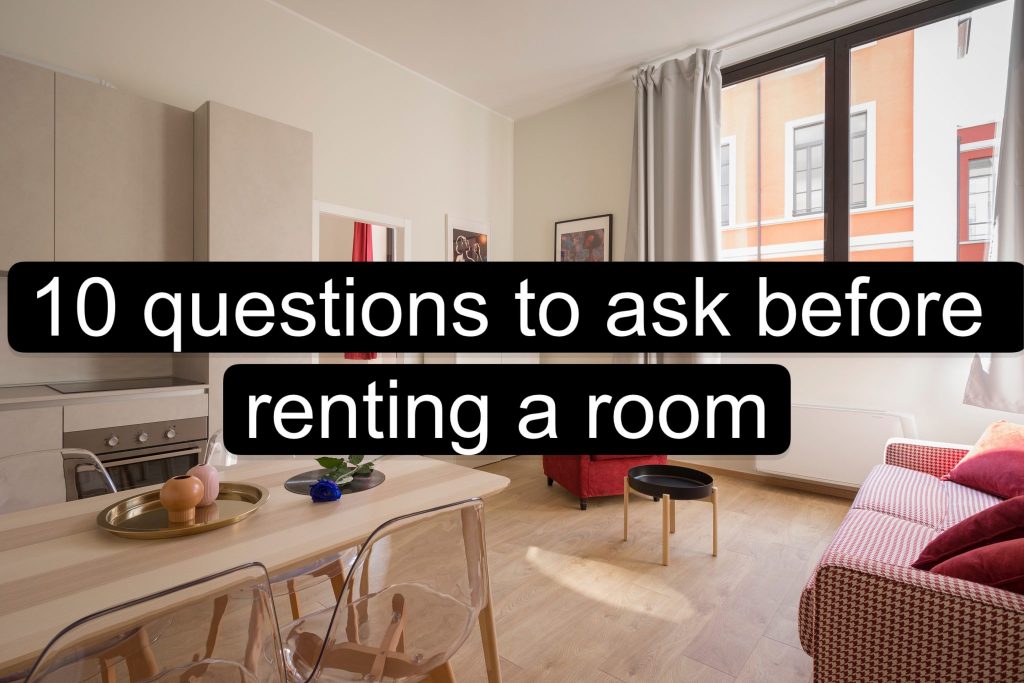 10 questions to ask before renting a room
What do you need to know before renting a room? We have concluded the 10 most common questions to ask before you renting a room.
1. Where is the exact location of the property?
Before you decide where to rent your room, first thing first, you would need confirm where is the exact location of the property. If possible, please ask for the map coordinate or the map location for you to pay a visit first. Try to do some research of your nearby amenities, whether your room close to any restaurant, food court, shopping mall, laundry shop or grocery shop.
If you are taking public transport, please also make sure there is at least a LRT/MRT/bus station that is within your walkable distance. If you are not able to pay a visit before decide to rent a room, you can try to check your room surrounding using Google Map.
2. What is your budget?
Choose your room rental which is within your budget constraint. You must think from a long-term perspective. According to  Khazanah Research Institute's research director Dr Suraya Ismail, we should not rent more than 30% from your monthly income.
3. What facilities are provided?
This question is most likely being asked if you are renting a condominium or a serviced apartment. Some may prefer there are plenty of facilities provided such as gym room, swimming pool, tennis court, playground, nursery, BBQ area or even a sauna room.
Of course, there will be maintenance fee being charge to you separately or already included in your monthly rent. You can clarify this with your landlord before decide to rent the room.
4. Who is your landlord or housemate?
This is definitely an important thing to consider when you want to rent a room. You must at least have a brief understanding of your landlord's background because in case anything unhappy or fraud happened and the landlord went missing, you already have some information on him/her so that you can safeguard your own interest.
Apart from that, you would want to know who is your future housemates too. Everyone has own preference to choose who to be his/her housemate as long as feeling comfortable to live together with.
5. When can you move in?
Remember to confirm the availability of move-in date and time because most of the rooms are currently occupied by someone else by the time you see a room being advertised. You have to manage your time properly if you are currently tied to a tenancy agreement. Beware of penalty that could be imposed to you by your current landlord if you do not give a notice period as stated in your current tenancy agreement.
6. How many months of rental deposit is needed?
It is really all depends on your landlord on how many months of rental deposit is required. Some of the landlords would require a minimum 2 months of rental deposit and some of the landlords may request for more than 2 months of deposit.
According to  PropertyGuru, there are several types of rental deposits that are more common in Malaysia, namely earnest deposit, security deposit and utility deposit. You are advised to discuss with your landlord before you make the payment.
7. Is your monthly rental included utility fee?
Water, electricity, Internet, cooking gas, laundry service, cleaning service, maintenance service can be considered as part of the utilities. You need to know your monthly rent is inclusive of these utilities fee or not. Generally the utility fee is divided equally among your housemates if you were to rent a house together with others because it is fairer to do so.
8. Who bear the responsibility for the damage to rented property (if any)?
This is where the security deposit comes in when there is any repair works carried out. Normally, landlord will be fully responsible for any damages in the rented property. The expenses for this repairing work are usually covered up by the security deposit and therefore will be forfeited.
Nonetheless, you can opt to get it fix by yourselves. Remember to keep your receipt and do inform your landlord on this so that you can claim back the expenses on the repair works.
9. What is your room's furnishing level?
If you prefer to rent a bare unit and do your own furnishing, please inform your landlord because some of them may not allow you to do renovation on the rented property. Nowadays, people would prefer a room which is ready to move-in with their own belongings only. You can request for more pictures of the room before you decide to rent it.
10. Do you need to sign a tenancy agreement?
Yes, a tenancy agreement is crucial to protect both the tenant's and the landlord's interest. It has to be made on a mutual agreement between tenant and landlord too. You can negotiate any terms with your landlord given that it is reasonable and acceptable by the landlord.
Besides, you are advisable to go through each of the clauses carefully before you sign it. The tenancy agreement should be stamped by the Inland Revenue Board Of Malaysia (or more commonly known as LHDN) before it has legal effect and the stamp duty is normally borne by tenant.